Case Studies | Corvettes & Cosmetics
What do Automobile Repairs have to do with Cosmetics? Everything if your business is engaged online. In these two instances, Corvettes and Cosmetics, with their respective websites allow those digital offerings to speak to their individual customers in a way that other marketing efforts could never do.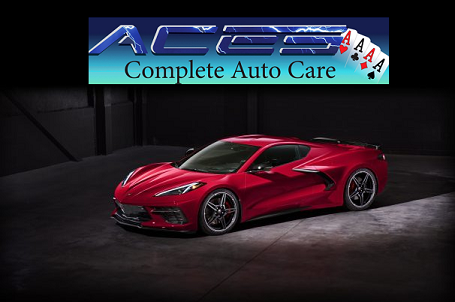 Aces Automotive of North Carolina is a sophisticated repair and custom shop dedicated to the service, maintenance, and performance of virtually every brand of automobile. The staff at Aces are all ASE Certified and have the total knowledge and experience to keep your car in perfect mechanical condition. The team also happens to be Certified as Corvette Experts.

The automobile repair and service industry is one that is highly competitive and only the most qualified remain in business for a long time. Independent shops are competing with large funded dealerships which makes the success of the smaller independent shop even more difficult. Having an online presence is not a luxury, but rather a standard requirement. Today's car owners research before they shop for repairs. They need to know the experiences of current clientele and they need to read about the shop prior to booking an appointment.

When Aces approached us and asked for our engagement with their existing website, our primary goal was to enhance the visual appearance of the site and change the coding structure to meet the best practices of Search Engine Optimization. SEO as it is known is actually a simple and logical method of coding and positioning; at least it should be. There are literally thousands of SEO modalities available today. However, the only series of systems that work with SEO are based upon simple clean code, and properly enriched meta data that all search engines demand. These techniques will always result in effectively reaching higher SEO results.

By modifying Aces visual appearances to Flat Page Technology, we were able to make the site feel far more comfortable, easier to navigate, and grab the attention of potential customers who are searching for a modern alternative to the impersonal dealership experience. At Aces, the people you speak with are also the same people who work on your car. But how would you know that prior to meeting them? You search for auto repairs in their city, see their properly positioned website in the search results, then visit their site. Seven seconds is what it takes to either capture the reader's attention, or to lose them to another search result. By engaging in simple flat page appearance, the potential client will immediately feel at ease and want to click "About", or "Services", then "Contact".

After the initial rework of the site, Aces saw a 27% increase in Contact transactions, a 23% conversion rate to actual Appointments and a 29% increase in gross sales all generated from the website. Not coincidently, Aces SEO improved site rankings from an average of 13th position to 1st position within the continuum of 47 key search terms. Where there was not measured growth in rankings, we simply modified search terms to meet the demands of the population. This will be an ongoing effort as it well should be.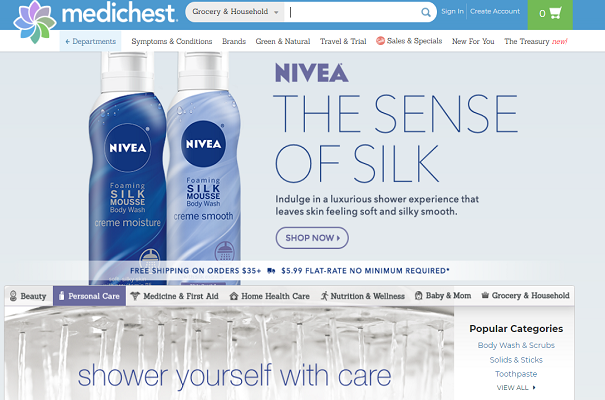 Medichest is a leading online drugstore. Started in 1999 Medichest catalogs and ships more than 40,000 health, beauty and cosmetic products daily from several warehouses in the States.

1999 was the "wild west" in terms of ecommerce. Shopping online was a strange phenomenon. Simply publishing an electronic catalog of your inventory and having a functional shopping cart was more than sufficient to build a customer-base. That presentation lasted for several years until languages changed, speed & efficiency were increased, and major competitors surfaced with bolder and newer technologies for online shopping.

When we joined the team effort of Medichest, the site did not even use Java and had zero responsive coding. Until then, it hadn't needed such traits. In 2013 , a total revamp of the site, shopping cart, customer input and UX were all performed by Cosmair.

The addition of CSS, Java, Java Script, API, and advanced CGI scripting for Shopping Cart efficiency resulted in massive growth. From 1999 until 2005, Medichest was the largest online supplier of Cosmetics and Beauty/Health brands in the States. By 2013, that position dropped to 11th place. It was clear that another make-over was required and one that incorporated our full knowledge and skills of Flat Page Technology.

Using the WayBackMachine, one can see the drastic changes in appearance. Flat Page Technology can be seen clearly from 2013 onward. Behind the scenes, our modernization of coding and the full use of interwoven language techniques allowed us to transform Medichest SEO and customer usage well past anything that had been tried prior.

Shortly before Medichest was sold to a larger player in the online drugstore business, Medichest was once again in first place with sales, profits, SEO rankings, and customer satisfaction. By simply changing the scattered multi-colored, multi-dimensional distractions of the website into softer colored, Flat Page Technology, we were able to assist the Medichest team achieve their desired goals and create an atmosphere that allowed the vast customer base to relocate to the successor's website and platform. Today, several years later we are proud to say that 92% of all former Medichest customers still shop at the new site.

Flat Page Technology
First, simplicity as a vital part of flat page design provides the concise expression toward means and composition clarity. Here it is appropriate to recall the motto of restraint — "Nothing excessive!" By getting rid of excessive decorations and graphic effects that follow real entity properties, the interface became more "arithmetical".

Geometric Styles
Second, "flat" design digital pages focus on good layout. It can be argued that the active progress of web composition came with "flat" design. Content comes first and this is extremely important in today's informational current.

Converting Designs into Code
Third, "flat" digital web pages are not trapped with a large number of visual effects and, therefore, have smaller size. Give us a PSD file, a PowerPoint image, a current web page or even a hand-drawn sketch and we will design around that.